Parking in Eotvos street 22.:
You can park right front of the apartment, it costs less than an Euro for an hour.
You find a parking machine right around the corner.
Weekends are free.
You have to pay from Monday to Friday between 8 am and 6 pm.
On weekdays before 08:00 and after 18:00 parking is free.
Parking in a near Parking place
4 minutes walk from the apartment You find a non-stop parking place.
Guarded parking place:
Csengery street 70.   Map here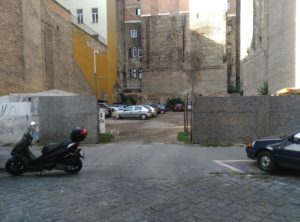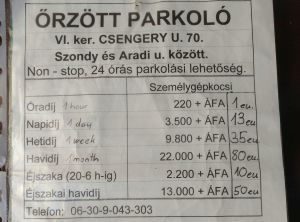 1 hour 1 Euro
1 day 13Euro
There is a security guy in the parking place all the time.
Phone: +36/30-904-3303
There are one way streets, You can attend the parking place with car like this: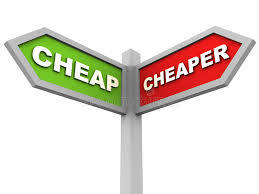 Cheaper parking a little bit more far away from the apartment:
Westend Szabadtéri parkoló, outdoor parking
https://goo.gl/maps/Xjdh5zxP4P7s7ZgD8
https://westend.hu/en/services/parking
1 day 3-4 Euro
Phone:+36302307460